Decorating your bedroom walls can be a tricky task. Not only do you have to decide on the perfect color scheme and furniture placement, but you also want to ensure that everything ties together in a cohesive manner. One great way to make your bedroom look both stylish and organized is to install wall shelves. Wall shelves are not only practical, but they can also add an extra element of decoration that will enhance the overall look of your room. Bedroom Wall Shelf Decor Ideas
1. Add a Small Plant Shelf.
Adding a small plant shelf to your bedroom wall is the perfect way to brighten up any space. Not only will it provide an interesting visual element, but it can also help you create a cozy atmosphere. Whether you're looking for a place to display your favorite succulents or some decorative pieces, this type of shelf can be an excellent decor choice. Here are some tips on how to make the most of this bedroom wall shelf decor idea.
First, select a spot on the wall that can accommodate the size of your chosen shelf. To ensure proper balance and symmetry, consider putting it near other existing shelves or furniture pieces in the room. Next, choose the right materials for the job; if you're going for a modern look try opting for metal shelving while wooden varieties provide more natural charm and warmth.
2. Create a Statement Wall.
Wall shelves are an ideal way to add extra storage and decoration to your bedroom. When used creatively, they can be the perfect piece to tie together a statement wall. Here are some ideas on how to decorate your wall shelves with unique items that will create an eye-catching display.
Start by picking out a few special pieces as the focal point of your wall shelf. This could be anything from small sculptures, vintage books, or even artwork you created yourself. Hang these items in strategic locations and fill in the rest of the space with decorative items like photo frames, candles, plants or other knick-knacks that fit the theme of your room. Be sure not to overcrowd each shelf as this can look messy and take away from the overall effect you're trying to achieve.
3. Build a Storage Wall.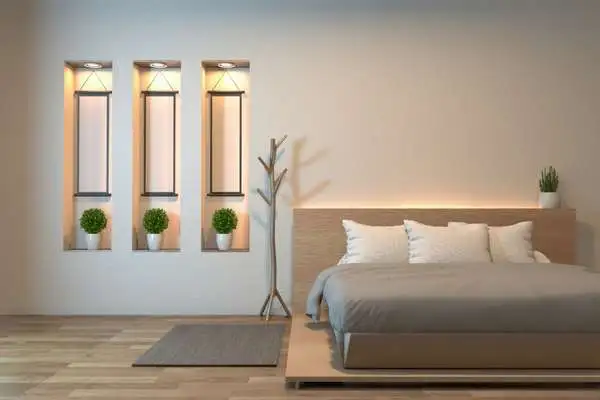 A storage wall can be a great option for both maximizing the space in your bedroom and creating an eye-catching design feature. With a little planning, you can make the most of your wall and create an efficient storage system that will also look good. Here are some ideas to help you create a stylish storage wall in your bedroom.
Start by selecting shelves that complement the décor of your room. It's important to choose pieces that fit with the existing design style and color scheme – but don't be afraid to experiment with different shapes, sizes, and materials like metal or wood! Next, decide where to place them on the wall. A symmetrical pattern works well here – line up two shelves at one height then stack another two above them for added dimension. Finally, accessorize!
4. Use Bedside Alcoves.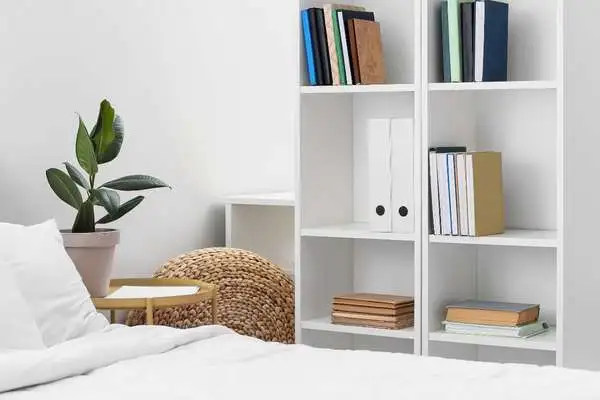 The bedroom is one of the most important rooms in the house, so it deserves to be decorated in a way that expresses your personality and makes you feel at home. One great way to do this is by incorporating bedside alcoves into your design. These shelves provide an elegant and practical solution for storage and decoration, as they can be used to display books, photographs, plants, or other decorative items while also conveniently providing easy access to them. They come in all different shapes and sizes, so you can find one that fits perfectly with your existing decor. 
Bedside alcoves are ideal for creating a cozy atmosphere in any room. They provide a subtle yet sophisticated look and will add texture and depth to any wall without cluttering it too much.
5. Add Free-Standing Shelves.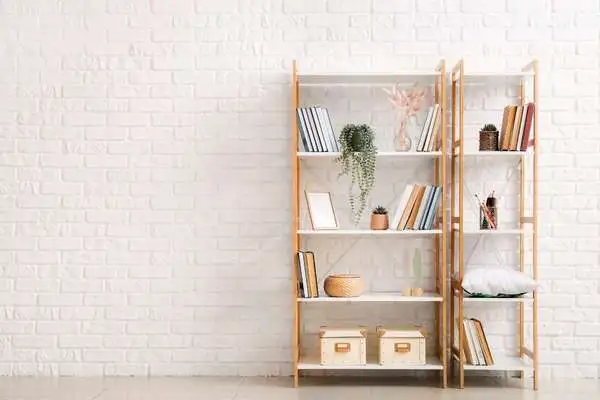 When it comes to adding decorative elements to a bedroom, free-standing shelves can be the perfect solution. Attractive and versatile, these shelves are ideal for creating visual interest and displaying treasures that reflect your unique style. With a few simple tips and tricks, you can find the ideal wall shelf decor for your bedroom in no time.
Start by considering how much space you have available on each wall. Measure the length of each wall in order to determine which sizes of shelves will fit best. When selecting shelves, look for ones with an interesting shape or color that will add visual interest to the room. Think about how you want to use each shelf – as a display space or simply storage – before making your selection. Pay attention to details like weight capacity; if you plan on storing heavier items such as books, make sure your chosen shelf is suitable for the task at hand.
6. Use the Space Above the Bed.
When decorating the bedroom, it's easy to forget about the space above the bed. While headboards and other furniture draw attention to the bed and its surrounding area, the wall shelf above it often goes overlooked. But with a few simple bedroom wall shelf decor ideas, you can transform this neglected spot into a stylish and functional focal point.
The most important thing to consider when adding a wall shelf above your bed is what type of look you want to achieve. For instance, if your goal is an industrial aesthetic, opt for metal shelves in neutral tones. Alternatively, for a more bohemian vibe choose wooden shelves with intricate carvings or bright patterns. You can also make an impact with decorative items such as colorful throw pillows or books arranged in interesting ways on the shelves.
7. Add Shelves in Tight Spaces.
Adding shelves to tight spaces can be a great way to increase storage and display your favorite bedroom decor. The key is to find the right shelves and wall decorations to make the most of small, awkward areas. With these bedroom wall shelf decor ideas, you can turn those tight spaces into stylish storage solutions!
For rooms with limited floor space, leaning ladder shelves are a great choice. These floating shelves take up minimal room while still providing plenty of room for items like books and plants. If you need more storage for heavier items, try using cube organizers or metal baskets on your walls. These will help provide stability without taking up too much of the precious space in a small bedroom. Finally, don't forget about decorative accents! Add some visual interest to your walls by hanging art pieces or putting up string lights around the edges of the shelf area.
8. Add Nightstands for Wall-Hung Shelves.
Adding nightstands to wall-hung shelves is one of the simplest ways to add style and function to any bedroom. Incorporating nightstands into your wall shelf decor is a great way to bring an extra touch of chic design, while also providing an additional spot for you to store items such as books, lamps, or even plants!
Whether you're looking for something simple and sleek or something more rustic and ornate, there are plenty of ideas out there that can help create the perfect look and feel for your space. For instance, if you have a mid-century modern-themed room, you might consider adding floating shelves with modern geometric shapes. Or if you prefer a more traditional look, try incorporating some classic wooden nightstands with intricate carvings or etched glass surfaces. You could also pair them up with baskets or boxes for ultimate storage options!
9. Display your Book Collection.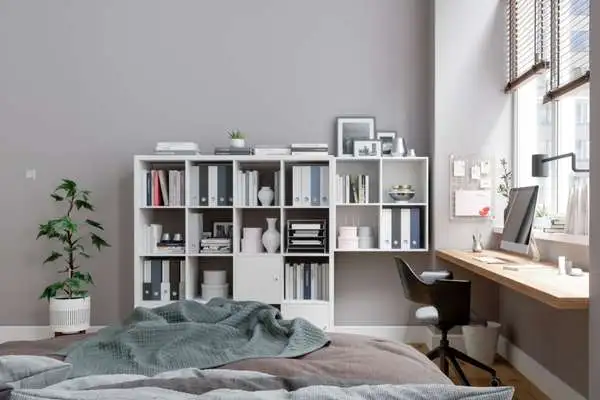 If your bedroom walls are looking a little bare, why not consider displaying your book collection? Incorporating a few shelves into your bedroom is the perfect way to show off all of those books that you've been collecting over the years. Not only does it look great and add some life to an otherwise dull wall space, but it also serves as functional decoration for all of your favorite reads. 
To start, measure out the area on the wall where you want to hang your shelves and make sure there's adequate space between them. After mounting them onto the wall, choose a playful color scheme and arrange each book according to size or genre. For example, if you have multiple copies of the same novel series, stack them on top of each other in order from the first book to the last.
10. Create Bedside Tables.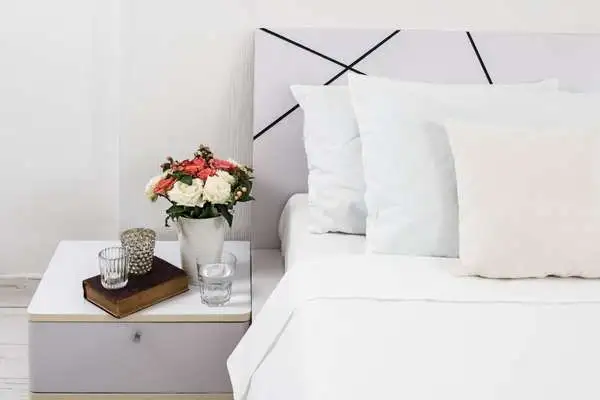 When it comes to bedroom wall shelf decor ideas, bedside tables are an important addition. These small pieces of furniture provide the perfect place to store items that you need close by while you sleep, such as eyeglasses, a book, or a journal. Plus, they add an extra element of style and character to your space. 
If you're looking to create your own bedside tables for your bedroom, it doesn't have to be difficult! You can easily upcycle old furniture that you already have in the house or purchase new pieces from thrift stores. Alternatively, if you've got more time on your hands and some DIY know-how under your belt – why not give building one a try? All you need is some basic tools and materials, like wood boards and screws. Then let creativity be your guide!
11. Add Modern Shelves.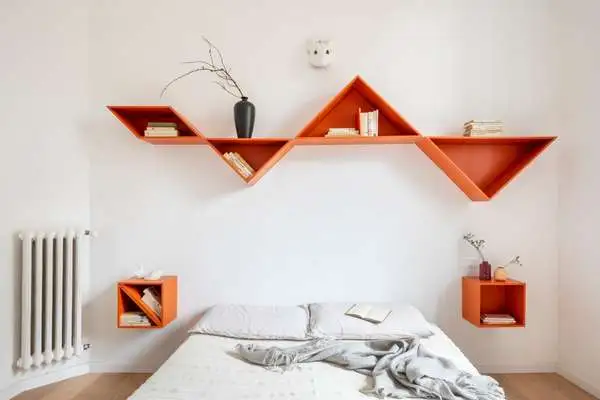 If you are looking to add a modern touch to your bedroom, shelves may be the perfect way to do so! Not only can a shelf create more storage space, but it can also improve the overall look of your room. There are plenty of ways you can incorporate modern shelves into your bedroom wall decor.
When shopping for shelves, pay attention to style and design. Look for pieces that have a sleek aesthetic with lines and angles that will create an interesting focal point on the wall. Floating shelves are especially popular right now because they give off a contemporary vibe without taking up too much space or overwhelming the room with bulky furniture. Consider using different colors or materials such as metal or wood, depending on what kind of vibe you're going for in your room.
12. Add Framed Pictures to one-Half Wall of the Beadboard.
Adding framed pictures to one-half wall of beadboard is a great way to spruce up your bedroom. It's an easy and creative solution for those looking for wall-shelf decor ideas. You don't need any special tools or skills; all you need is a little imagination, some frames, and the right measurements.
To start, measure out the size of the pictures that you'd like to hang on the top half of your beadboard wall. Make sure it's an even number so that all your frames look uniform, then get creative with how you want them arranged. Try using different sizes or shapes that will make your wall look unique and interesting. Once you've got everything measured out, use nails or removable mounting strips to secure each frame into place on the wall.
13. Add Light to Shelves.
Are you looking for the perfect way to spruce up your bedroom wall shelf? Adding light is one of the easiest ways to instantly update and add a sparkle of personality to any room. With so many options available, it can be hard to decide which lighting style will fit best into your decor. Here are some bedroom wall shelf decor ideas that can help you create a well-lit, cozy ambiance in your home.
The first option is ambient or task lighting. This type of lighting focuses on illuminating specific areas within the room. For instance, you could place a string of LED lights along the top of your bedroom wall shelf for an even glow around the space. Alternatively, you could add spotlights behind books and other items on the shelves to showcase their beauty with added emphasis.
14. Display your Vintage Collection.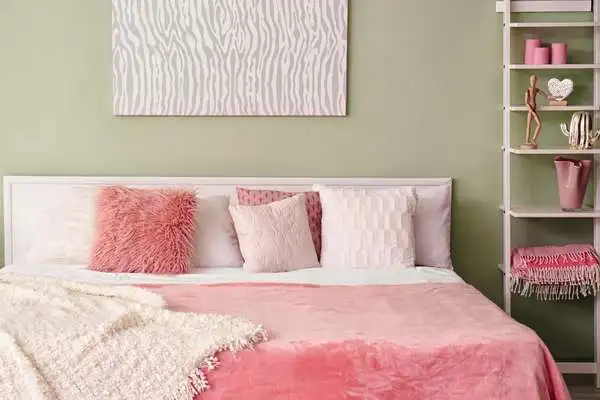 Decorating your bedroom with vintage collections is an excellent way to add a unique personality to the interior. But if you're not sure of how to display these collectibles, don't worry — we have got you covered! A bedroom wall shelf is one of the best places for displaying your collection. With the right combination of items, it can become the centerpiece of any room. Here are some inspiring bedroom wall shelf decor ideas that will help you show off and enjoy your vintage collection. Bedroom Decor Ideas
Start by grouping similar items together on the shelf. Think about texture and color when arranging them and try to keep things balanced – this will make a dramatic statement in your bedroom. You can also hang artwork or photos alongside your collectibles for added visual interest; mix and match frames for a rustic look or stick with all-black frames for a modern vibe.
What are some good bedroom wall shelf decor ideas?
Wall shelves are a great way to add extra storage and style to your bedroom. Some ideas for decorating them include displaying plants, candles, framed photos, artwork, and books. You can also use them to store items like jewelry or knick-knacks that you want to keep handy but out of sight. Have fun with it and make it your own!
What other items should I put on the shelf in my bedroom?
It depends on what you like! You could put some framed photos, a few books, plants, or decorative items. Anything that makes you feel relaxed and happy when you look at it is the perfect thing to have on your shelf. Have fun experimenting with different styles and colors to make it unique!
What are cute things to put on shelves?
Shelves are a great way to add character to any room! Some cute items to put on shelves include small plants, framed photos, decorative books, and trinkets from your travels. You can also get creative with items like mini sculptures or vintage knick-knacks. Have fun with it and make it your own!
What are fun things to put on a shelf?
A shelf is a perfect place to showcase some of your favorite items! Consider adding a few books, plants, art pieces, figurines, or even a collection of trinkets. Adding personal touches like these can bring a lot of character to any room.
Conclusion
In conclusion, decorating your bedroom walls with shelves is a great way to add both style and character. From industrial-style floating shelves to multi-level corner units, you can find the perfect wall shelf for any space. Just keep in mind that it's best to not overfill the shelves, as too much clutter can make your room feel small and cramped. With a little bit of creativity, you can easily create a stylish and functional bedroom storage solution that fits your personal style and needs.