With the holidays just around the corner, it's time to start thinking about how to create a festive atmosphere in your home! If you're looking for ways to bring some holiday cheer to your bedroom, look no further! In this article, we will discuss some creative and practical ideas for decorating your bedroom in a festive way. From DIY decorations to simple lighting changes, here are some great Christmas room decor ideas that will make your bedroom feel like a winter wonderland. Bedroom Christmas Room Decor Ideas
1. Choose the Right Bedding.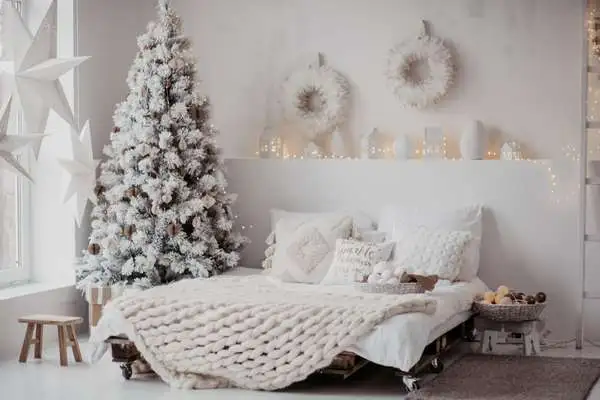 Finding the right bedding is essential to creating a cozy and inviting bedroom in your home. After all, it's the centerpiece of any bedroom, and you want to make sure that it looks perfect for Christmas! With so many different fabrics, colors, and patterns available on the market today, it can be overwhelming trying to decide what type of bedding will look best in your room.
The key is to find a product that meets both your style and comfort needs. Consider selecting materials such as flannel or velvet for added warmth during the winter months. For more modern designs, try choosing a unique pattern or color palette that will complement the rest of your holiday decorating scheme. When shopping for bedding this season, don't forget about accessories like quilts and throw pillows – these are great additions for adding extra visual interest to your room!
2. Add Fairy Lights.
Are you looking for a fun way to spruce up your bedroom decor this Christmas? Fairy lights are the perfect solution! Not only do they create a magical atmosphere, but they can also be used in all sorts of creative ways. Whether it's giving your bedroom an enchanting makeover or recreating a festive winter wonderland, these string lights will help bring your Christmas room decor ideas to life. 
With so many styles and shapes of fairy lights available, you can easily find options that fit the look and feel of your bedroom. From subtle twinkle lights to bright neon colors, there's something for everyone – no matter what kind of design aesthetic you have! So don't wait any longer – add some sparkle and shine to your home this holiday season with fairy lights.
3. Add Christmas Cushions.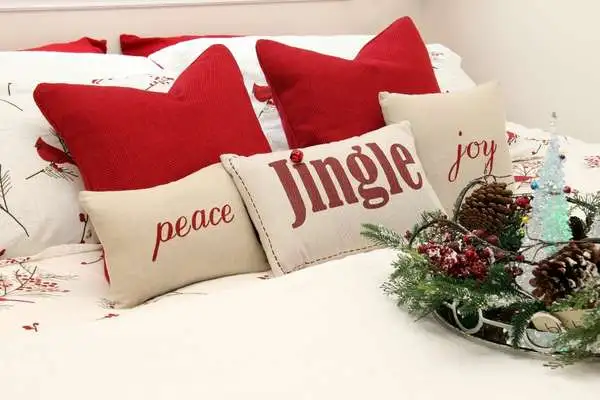 When it comes to creating a festive atmosphere in your home during the Christmas season, adding new decorations can be a fun and simple way to do so. Cushions are an excellent way to instantly transform any room, and there's no better time of year than Christmas to update your bedroom with some festive-themed cushions! Whether you want something classic or contemporary, there are plenty of Christmas cushion designs available that will help bring extra cheer into your home.
From traditional styles featuring Santa Claus and reindeer motifs to more modern options such as snowflakes and abstract prints – you're sure to find something that fits with the rest of your bedroom decor. Adding cushions is also an easy way to experiment with different colors and textures; why not try velvet or faux fur for a truly indulgent look?
4. Add a Small Christmas Tree.
It's that time of year again—time to start thinking about Christmas decorations! Whether you have a large family gathering or just want to add some holiday cheer to your own bedroom, a small Christmas tree can be the perfect way to get into the spirit of the season.
There are lots of options for adding a small Christmas tree as part of your bedroom décor. You can choose from traditional artificial trees with lights and garlands, mini tabletop trees with ceramic figurines, or even battery-operated LED trees made out of plastic. If you're looking for something more unique, try using an old ladder and some twinkle lights to make an eye-catching wall hanging! Whatever route you decide to take, these room decor ideas will help bring a bit of holiday cheer into your home this season.
5. Add a Christmas Colors Bed.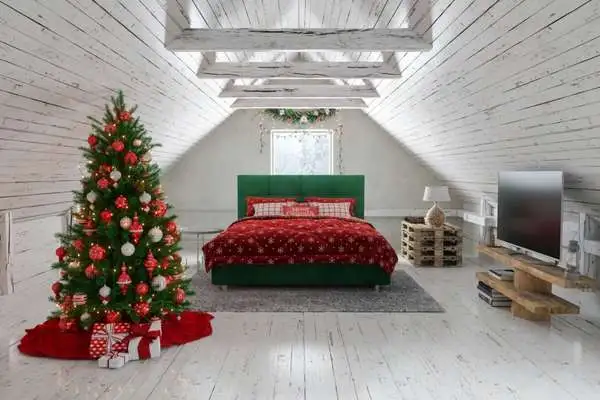 If you're looking for a way to bring the holiday spirit into your bedroom, then adding some Christmas colors to your bed is the perfect way to do it! Incorporating Christmas colors can add a festive and cozy touch to any room. Whether you're decorating for the holidays or just want to enjoy a bit of seasonal cheer all year long, there are plenty of ways to incorporate these vibrant colors into your bedroom.
For starters, try adding some bold reds or greens as an accent color on your wall or through curtains or pillows. You can use wreaths and garlands as decorations in your room too! If you prefer something more subtle, consider using white and silver accents that will still give off a hint of Christmas cheer without being overwhelming.
6. Drape Garland Along your Headboard.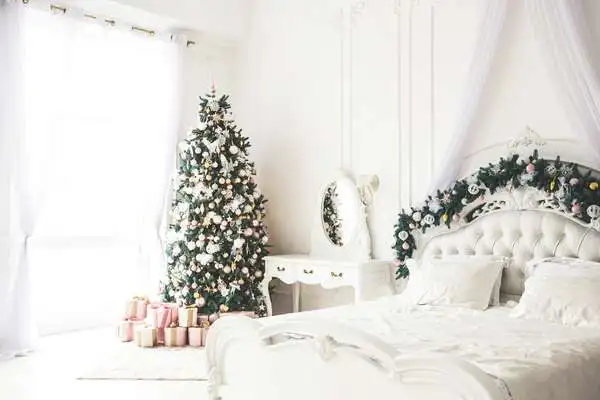 What better way to bring the holiday spirit into your bedroom than decking it out with some festive decorations? This easy and fun DIY project is perfect for adding a touch of Christmas cheer without investing in expensive decorations. Draping garland along your headboard is inexpensive and simple to spruce up a room.
Adding garland is a great way to add some festive flair to any space, especially when you have limited space or budget. All you need is some greenery, ribbon, and string lights. You can find pre-lit garlands or ones that require lights separately at most craft stores or online retailers. The best part about this decorating hack is that it's customizable; you can choose different colors of ribbon, greenery, and even garland size!
7. Hang up Wreaths and Ornaments.
It's the most wonderful time of the year! Time to start thinking about how to decorate your bedroom for Christmas. If you're looking for an easy, affordable way to dress up your room for the holidays, consider hanging up a few festive wreaths and ornaments. This is a great way to get into the holiday spirit without investing too much effort or money.
Wreaths are especially popular during this time of year and can be easily hung on walls or doors with a nail or adhesive hook. Ornaments come in all shapes, sizes, and designs so you can choose something that fits your style and theme. Look for reds, whites, silvers, and gold that will look beautiful against any background color. You could also hang up strings of lights around windowsills or doorways to add even more sparkle and cheer!
8. Hang a Wreath on your Mirror.
Are you looking for a festive way to spruce up your bedroom this holiday season? Hang a wreath on your mirror! It's an easy, budget-friendly room decor idea that will instantly add some Christmas cheer. Plus, you can customize the look of the wreath to fit any style. Whether it be a classic evergreen or a modern mesh bow, there are plenty of ways to brighten up your space!
One of the best things about hanging a wreath on your mirror is that it looks great in most rooms. From bedrooms and bathrooms to living rooms and hallways, adding this simple decoration can help transform any space into one that feels merry and bright. Plus, if you're feeling creative, you can even make your own unique DIY version with items from around the house – like ribbons and pinecones!
What are some inexpensive bedroom Christmas decor ideas?
Christmas lights are a great way to decorate your bedroom without breaking the bank. You can hang them up around the windows, walls, and furniture for a festive look. Another idea is to make your own garland out of paper or fabric and hang it around the room. Finally, you can add some holiday-themed throw pillows and blankets for a cozy touch!
What should I consider when decorating my bedroom for Christmas?
When decorating your bedroom for Christmas, consider what will make it feel most festive and cozy. Think about incorporating traditional holiday colors like red and green, or adding a few twinkling lights to make the room sparkle. If you have extra space, consider getting a small artificial tree to really bring the holiday spirit into your bedroom. Have fun with it and don't be afraid to get creative!
What should I put on my bedroom Christmas tree?
That's a great question! The possibilities are endless, but here are a few ideas: you could hang traditional Christmas ornaments like bells and stars, or get creative with some homemade decorations. You could also add twinkle lights to give your tree a festive glow. Have fun decorating!
Conclusion
In conclusion, Christmas is an amazing time of year and with these bedroom Christmas room decor ideas, you can create the perfect winter wonderland to settle into for the festive season. Whether you want to go for a simple but classic look, or fully embrace your inner Santa Clause, the possibilities are endless! From bedding to lights and everything in between, make your bedroom decor an inviting and cozy space this holiday season.