Christmas is a magical time of year that brings joy and cheer to all who celebrate it. Decorating for the holidays can often be a daunting task, especially if you are working with a small living area. But don't worry, there are plenty of ways to spruce up your space for the festivities! In this article, we will look at some creative and festive Christmas decor ideas that will make your small living area look larger and more inviting.
1. Add a Christmas Tree.
If you want to add a festive touch to your small drawing room this Christmas, why not consider adding a Christmas tree? It's the perfect way to bring some holiday cheer into your home. Not only is it the traditional symbol of the season, but it also serves as an ideal decorative piece for any small living area. Whether you opt for a real or artificial tree, here are some tips on how to make the most out of your Christmas decor in a limited space!
To start off, be sure to shop around for trees that fit well within your living room's dimensions. Artificial, pre-lit trees come in different sizes and shapes so there is bound to be one that fits perfectly into your living area without feeling too cramped. If you'd rather go with a real tree, try picking one that has slim branches so it can easily fit in even narrow spaces. Livingroom Decor idea
2. Add Fairy Light to the Christmas Tree.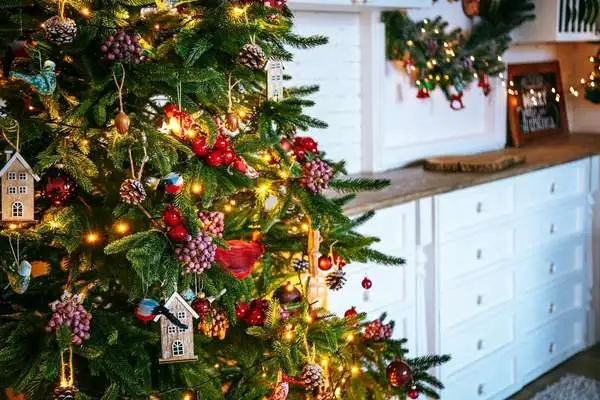 When space is limited, it can be tricky to find the perfect Christmas decor ideas for a small living room. To make sure your holiday decorations are as festive as possible, consider adding a few strands of fairy lights in and around your Christmas tree. The twinkling lights will add a magical touch to any room! 
To maximize the effect of the fairy lights, try draping several strings of them from one side of the tree to the other, or loop them around branches for more unique lighting patterns. You can also hang some individual bulbs from higher branches for added sparkle. Make sure you choose LED lights, which use minimal energy and stay cool so they don't pose a fire risk.
Finally, don't forget to accessorize your tree with beautiful ornaments and garlands that complement your existing decor.
3. Add wall art to the Christmas vibe.
It's the most wonderful time of the year! Christmas is almost here, and you want to spruce up your small drawing room with festive decorations and decor. Adding wall art is a great way to usher in the holiday spirit without cluttering the space. Here are some Christmas decor ideas for adding wall art to your small living room to make it feel like a winter wonderland. 
First, consider hanging large framed prints of Christmas scenes or words like "Merry Xmas" on one of the walls. You can find many options ready-made at your local home store or create custom frames with photos from past holidays. If you don't want anything too permanent, garlands, paper snowflakes, or even string lights hung in ornate patterns around the artwork will do just fine!
4. Add Wallpaper.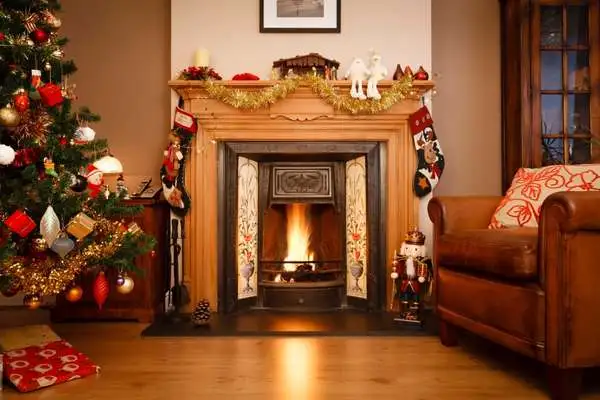 Looking for Christmas decor ideas to spruce up your small living room? Why not consider adding wallpaper? Not only will wallpaper add a festive touch to your home, it is also a great way to brighten up and make the most of your smaller space.
Wallpaper comes in an array of colors and designs, making it easy to find something that matches your interior style. When selecting wallpaper for a small living area, choose warm tones and patterns that are light and airy such as stripes or delicate florals. This way you can create the perfect backdrop for all those festive decorations without over-cluttering the room. Opting for removable wallpaper is also a great idea, so you can easily switch it out when the festivities are over. 
Don't be afraid to get creative with it – experiment with different colors, textures, and pattern combinations!
5. . Add a Fireplace.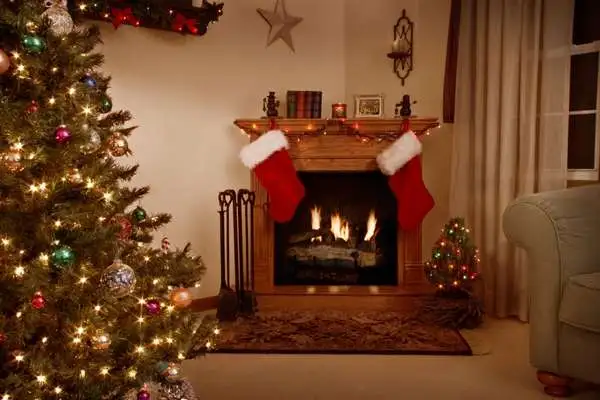 A cozy fireplace is a perfect addition to any small living area, especially during the holiday season. Not only is a fireplace an attractive feature, but it adds a warm and inviting atmosphere that's perfect for gathering around with family and friends. This Christmas, why not add a new fireplace to your drawing room to create a wonderful centerpiece that will be sure to delight? 
Finding the right fireplace can be tricky if space is limited, but there are several compact options that work great in tight quarters. Electric fireplaces offer excellent convenience with minimal installation requirements; choose from models that sit on the floor or hang on the wall for easy setup. For those who prefer traditional wood-burning fireplaces, ventless gas fireplaces offer all of the features without requiring ventilation or special construction. With these options you can find something suitable for any small living area- so get shopping!
6. Drape Garland Along your fireplace frame.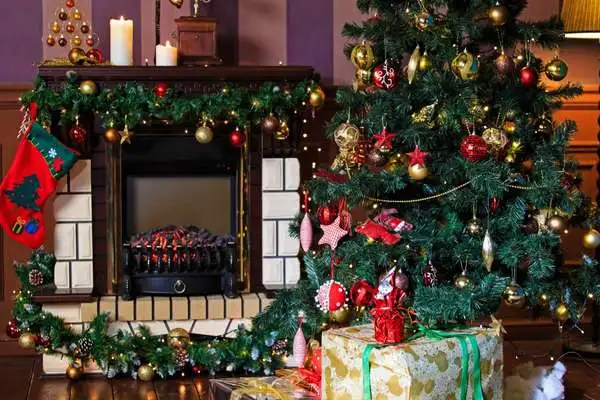 When it comes to decorating around your fireplace for Christmas, you don't have to worry if your living area is on the smaller side. With a few simple decorations, you can create a gorgeous look that will make any small drawing room feel festive and inviting. 
One of our favorite ideas is draping garland along the frame of the fireplace. This offers an easy way to add some holiday cheer without taking up too much space. To get started, pick out a garland in colors and styles that match your existing Christmas décor. You can also use battery-operated lights or ornaments to give it some extra sparkle and shine! Drape it over the mantelpiece, down each side of the fireplace, and even across the front for an eye-catching effect.
7. Add Christmas Traditional Sofa.
If you're looking for unique Christmas decor ideas to bring festive cheer to your small living room, then why not include a cozy traditional sofa? Not only will it help to create a snug and comfortable atmosphere, but it will also be the perfect spot for snuggling up on cold winter nights with a warm mug of hot chocolate!
When searching for the perfect Christmas traditional sofa, look out for one made from plush fabrics like velvet or wool. These materials are great at trapping heat and keeping you cozy while watching your favorite holiday movie. You could even add some festive throw pillows with intricate patterns or bold colors to really capture the spirit of the season in your living space. Finish off the look with seasonal touches such as garlands or poinsettia plants – it'll make all the difference in creating an inviting environment full of festive vibes!
8.  Add traditional Sofa Cushions.
Christmas is just around the corner, and it's time to start decorating! If you have a small living area and want some festive decor ideas, one of the best options is to add traditional sofa cushions. They instantly provide an inviting atmosphere while also adding plenty of festive cheer. 
Small sofa cushions are incredibly versatile – they can be used as decoration during Christmas time, but also work well all year round. Not only do they look great in any small living area, but they are comfortable too! You'll find that a few strategically placed cushions make your drawing room much cozier and more inviting for guests. Plus, you'll have so many exciting patterns and designs to choose from – from classic knits such as Fair Isle or snowflakes to abstract geometric patterns – that will fit perfectly with your existing furniture.
9. Add a Rug.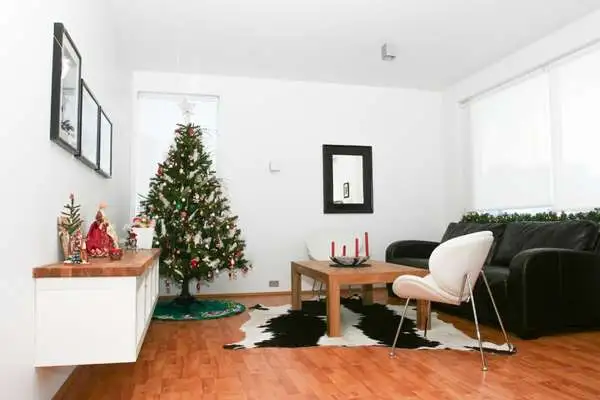 Are you looking for Christmas decor ideas to spruce up your small living room? Adding a rug can be an easy and effective way to bring both color and texture into the space. Not only that, but it can also help to define an area or separate one room from another.
When it comes to choosing the right rug for your small living room, consider the size of the room itself and any furniture you may have in it. A larger rug will create a bold statement while smaller rugs can act as more of a minimalist approach that still adds some festive flair. Color is also important when picking out your rug; muted colors such as browns, whites, or tans are great choices if you want something neutral – or go all out with bright red for a truly traditional holiday look.
10. Decorate Your Mirror with a Christmas Traditional Look.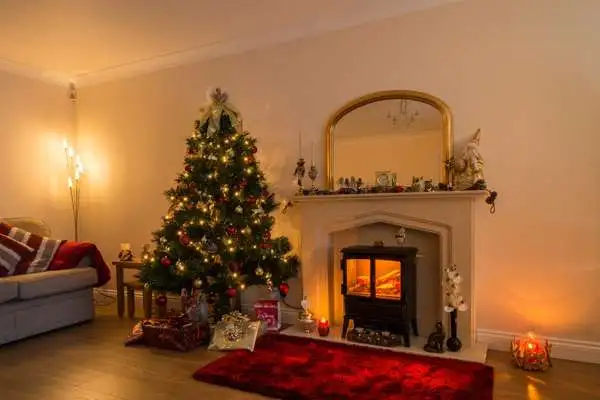 If you're looking for a festive way to add a special touch to your Christmas decor in your small living room, then look no further than decorating the mirror! Mirrors reflect light and create a cozy atmosphere – perfect for the holiday spirit. With the right materials, you can transform any boring mirror into a traditional Christmas decoration that adds some extra sparkle to your home. Livingroom Decor idea
For starters, try adding ribbons or garlands of evergreens around the frame of the mirror. This will instantly give it a classic holiday look and make it an eye-catching piece in your living area. You can also hang miniature decorations like stars or snowflakes from the ribbon for added effect. If you want something more subtle yet still festive, opt for using white twinkle lights with green foliage instead of ribbons and garlands.
11. Display Your Collection.
Are you looking for some great Christmas decor ideas for your small living room? Displaying your collection can be a great way to celebrate the season and bring cheer into your home.
Your collection doesn't have to be big or expensive to make a statement. Start with the basics like a festive rug, cheerful pillows on the sofa, and twinkling lights around the windows. If you're feeling ambitious, try making an accent wall with paper snowflakes or string up some garland from the ceiling. Then add pieces from your collection like antique Christmas cards or a few vintage decorations that will really pop in the space.
If you want to make an even bigger impact, pull out other items from around your house that fit into your holiday theme and display them throughout the living area.
12. Add a Coffee Table.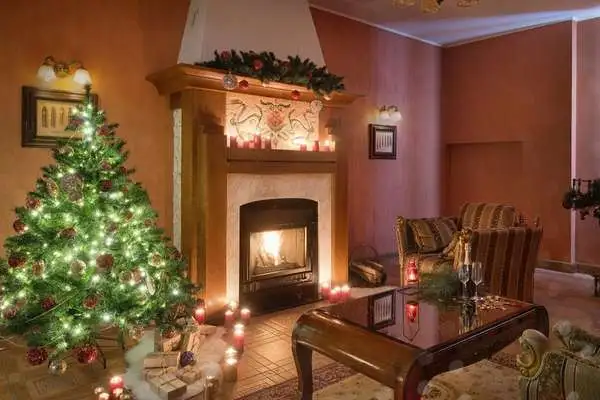 Are you feeling stuck with your Christmas decorating ideas for a small living room? Adding a coffee table can help create an inviting atmosphere. Not only is it a great way to give your living area an extra pop, but it can also be used to store various items. With just the right size and shape, you can easily have all the decorations you need in one place. 
For instance, if you have limited storage space, using a coffee table with drawers will provide extra storage options – perfect for displaying ornaments and other holiday decorations. With many different styles available, from traditional to modern designs, there's sure to be something that fits your style and budget. Whether it's rustic charm or sleek sophistication that you're looking for, adding a coffee table is the perfect way to make your small living room shine this Christmas season.
How can I make my living room look Christmassy?
One great way to make your drawing room look Christmassy is to add some festive decorations! Hang up some Christmas lights, add a few festive throw pillows and blankets, and put out a few decorations like a wreath or a mini tree. You can also create a cozy atmosphere with candles and scented oils. Have fun decorating!
What are some affordable Christmas decor ideas for small living rooms?
String lights are a great way to add festive cheer to your small living area! They're affordable and come in a variety of colors and shapes. You can also use garlands, wreaths, and other wall decorations to make the space feel more festive. Don't forget to add some fun ornaments too! Finally, you can use candles or fairy lights for extra ambiance. Have fun decorating!
What are some creative and unusual Christmas decor ideas for small living rooms?
Hang a string of mini lights from the ceiling to create a starry night effect. Add some ribbon and Christmas ornaments to your windows for a festive touch. Put up a small artificial Christmas tree with colorful ornaments and fairy lights. Use wall decals to add some holiday cheer. Hang stockings on the wall instead of using a mantelpiece. Finally, use festive-colored throw pillows to complete the look!
Conclusion
In conclusion, Christmas decor ideas for small living areas don't have to be complicated. With a few creative touches, you can make any space look festive and inviting. You can use seasonal accessories like pillows, throws, and garlands to create a cozy atmosphere or hang string lights in unexpected places to add sparkle and shine. Whichever decorations you choose, the most important thing is to have fun with them and make them your own!